I provide free advice and assistance if they need. In the last of this page  in Comments–write your view or your questions-
Click here – Video of Best 10 Hill Stations–  https://www.youtube.com/watch?v=hOqt32zlFas
Hill Stations in India – Experience sublime tranquillity and mysticism
India has fascinated millions of people from the various geographical locations of the world, to visit the country, where many religions were born and flourished. It is a land of varied diversity, where over a billion people speak more than 700 languages, sync together to prosper as a nation. There are numerous tourist destinations in the country. With "Athiti Devo Bhava" (Guests are Gods) as the prime lesson being taught in each household. It is one of the most tourist-friendly nations in the world.
The hills have been successful in holding up the century-old traditions and cultures that have prospered the lives of the people in Incredible India. India is dotted with the awe-inspiring hills all over the country starting right up from Jammu and Kashmir to Tamil Nadu, encapsulating over 20 mountain ranges.
There are many hill station tours in India to choose from, but the problem remains which one to select. In a country with over 20 mountain ranges, choosing a hill station can be a very challenging task. Here is a list of the popular hill stations in India categorized by the part of the country you decide to visit.
The travel & tourism in the northern part of the nation is dominated by the Himalayas, offering everyone a chance to get spellbound by the grandeur of the peaks and picturesque landscape, which one cannot ignore.
India is a preferred tourist site and has beautiful hill stations. They are loved by tourists for their tranquil ambience, verdant greenery, barren desert and beautiful valleys. Most of them are located at altitudes ranging from 3,500 to 7,500 ft above sea level. The hill station trip in India is going to be the unforgettable holiday experience that will be etched in your mind for the rest of the life. There are many renowned hill stations that have won the hearts of many a tourist. If you are planning to discover the serene exquisiteness of Indian hill stations, then visit the one you have always wished for and make the most of it.
Get more information on Mountains and Rivers Tourism – Contact Us
For different Hill Stations in different States of India
You can consult http://www.transindiatravels.com/hill-stations/top-80-hill-stations-in-india/
Tourism Adventure Sport Hotspots in India
Rafting
-Rafting in modern sense is an outdoor recreational activity which is done by using an inflatable raft to navigate around a river or other bodies of water. Rafting is often done on White waters or rough waters to make it more challenging, thus it is also called "White water rafting". The various white water rafting locations in India are Rishikesh, Zanskar, River Indus, Bhagirathi River, Teesta River, Brahmaputra River, kali/Sharda River, Tons river, Kolad, Barapole and Dandeli.
Skiing-
Usually done on top of snow covered terrains, skiing is an outdoor sport played by attaching long runners or skis to their boots, and sliding down the slopes of a snow covered hill. India being a host to a number of snow covered mountains including the monolithic Himalayas has various skiing spots to offer, located in Gulmarg, Pahalgam, Manali, Kufri, Narkanda, Solang valley, Chamba, Shoja, Triund, Auli, Munsiyari, Dayra bugyal, Mundali, Lachung, Yumthang and Tawang.
Hang Gliding-
Hang gliding refers to an air sport which involves a pilot who flies a light weight, non-motorized, foot-launched aircraft called a "hang glider". Usually done from the top of a hill, India has various sites which have various organisations that promote and make this sport available to the new adventure seekers. The spots are mainly located in Kasauli, Dharamshala, Shimla, Satara, Sinhgarh, Pune, Kamshet, Mysore, Ooty, Shillong, Yumthang and Jorethang.
Ice Climbing-
It involves scaling features such as icefalls, frozen waterfalls, and cliffs and rock slabs covered with ice refrozen from flows of water. Ice climbing was formerly a technique used during mountaineering expeditions which has now evolved into an exclusive adventure sport. The various ice climbing spots in India are Manali, Zanskar, Ladakh, Gulmarg, Deo tibba, Hanuman tibba, Pir pangal range and Dhaulandar.
Rock Climbing-
It refers to an outdoor sport which involves the participant scaling up a vertical rock surface. The goal is to climb up the wall/rock formation without falling, although the fall is broken by a safety rope. It's one sport that tests the participants both physically and mentally, as one has to maintain his stamina and balance along with a huge degree of mental control. There are various rock climbing sites in India, such as Shey rock, Miyar River, Parvati valley, Malshej ghat, Savanaduga, Madhugiri, Ramanagara and Pithalmala
Scuba Diving–
Its a form of underwater diving in which a diver uses a self contained breathing apparatus allowing a greater freedom of movement. The term SCUBA is simply an acronym for self contained underwater breathing apparatus. The various places that offer thrill seekers both old and new, scuba diving services are based in Andaman & nicobar, Lakshadweep, Islands of netrani and Goa.
Water Skiing–
Like skiing, the individual wears long footboards or just one on his feet and is pulled behind a speedboat on a body of water, skimming the surface. Water Skiing involves more endurance than regular snow skiing as the practicing individual has to hold on to the harness and is pulled by a motorboat at a high speed. There are various places in India which offer this sport; they are Asan Barrage, Dal & Nagin Lake, Manasbal Lake, Goa and the Andaman & Nicobar Islands.
Sky Diving or parachuting–
Its an action/adventure sport which involves exiting from a flying airplane, being in freefall and then slowing down midway with the help of a parachute and returning back to the ground. Said to be done only by the most extreme and overly thrill seeking adventurists. India, being the 2nd largest population in the world is not without such thrill seekers who possess nerves of steel, as required by this sport, there are various places in India which offer the experience of this sport. They are Mysore, Dana, Deesa, Pondicherry and Aamby valley.
Bungee Diving–
Its Another adventure sport which is sure to pump up your adrenalin to its max is bungee diving or bungee jumping. It involves jumping from a great height, which is usually from a tower, building or a bridge while being attached to a long elastic chord which keeps you from hitting the ground by pulling you back in a rebound. There are various places in India where thrill seekers can try out this sport; these are Rishikesh, Bangalore, Delhi and Goa.
Hot Air Ballooning Ride–
It refers to the activity of flying a hot air balloon while seated in the capsule under it; hot air ballooning is one of the oldest human carrying flight technology, since the balloon lacks proper steering controls and moves with the wind, it is one sport that will test your brains and ingenuity. India hosts various festivals dedicated to the promotion of this sport, the various hotspots are Jaipur, Pushkar, Ranthambore, New Delhi and Manali.
Give your kind Comments or Contact us – for Free Advice and Guidance for your Activities  During your Visit India.
Best Places for Mountaineering/Trekking  in India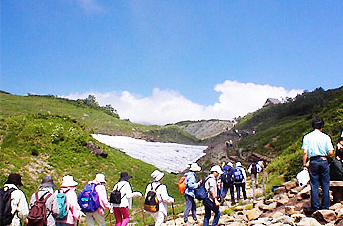 High Altitude Trekking Adventure Destinations in Indian Himalayas
Hours seem like days and each turn comes out with a new challenge, trekking in Indian Himalaya if it is so then why there are several day dreamers backpacking to explore the rugged tracks? The stretch of the Indian Himalaya from Jammu and Kashmir to Arunachal Pradesh brings forth a celestial territoy away from profane clamour to a speckless world of nature where lies towering snowcapped peaks, shifting moraines, crystal blue lakes, untamed rivers, pre historic traces, remote villages and vast ecosphere. The adventure tourism in India unfolds an invigorated world up in the Himalaya from the Great Lakes in Kashmir to the oldest monastery in India in Arunachal Pradesh. Thus trekking tours in India over the years has gained its importance right from the ancient rock arts in Ladakh region reflecting the Iron Age secluded within the rugged highland and abode of Dalai Lama and remote life style of the Indo-Tibetans in Himachal Pradesh to the fusion of myths, history, nature, religion and culture of Garhwal and Kumaon region in Uttaranchal and vast ecosphere from North Bengal to Sikkim.
When it comes to trekking trails in the India, it takes one to mull over picking up one destination. Ladakh has always been a grapevine even after it has been unfold from several trekkers' diaries. Trekking trails in Ladakh spreads out not only the rugged cold desert and lakes but also reaches out to a date from where human civilization started. It engrosses the challenging uprise trails further with frozen days and endangered wildlife. Some of the popular treks in Ladakh are the Frozen River Trek, Skot Kangri Trek, Snow Leopard Trek and Ladakh Ancient Monasteries Trek and one of the unexplored treks is the Caravan Yak Trek.
Down the highway and passing through some of the highest mountain passes from Ladakh to Himachal Pradesh it offers a journey of a lifetime. Trekking in Himachal Pradesh further acquaints the quaint and remote lifestyle of the Indo-Tibetans inhabiting over the years under the shadow of lofty marooned ranges and a contrasting nature dotted with lakes in the midst of lush green and colourful meadows. The popular trekking trails in Himachal Pradesh are the Chandra Tal Trek, Bhrigu Lake Trek, Beas Kund Trek and Malana Trek and one of the unexplored treks is the Miyar Valley Trek.
From the sacred land of Garhwal and Kumaon, the Indian Himalaya unwrap several spiritual trekking destinations. One of the best trekking destinations in India that beholds the heart and soul of several pilgrims is the Sources of the Ganges Trek. Nonetheless Uttaranchal is tucked with the hulking high peaks of India and thus it forms a paradise to several trekkers. Some of the major treks in Uttaranchal are the Roopkund Trek, Nanda Devi Base Camp Trek, Dodital Trek and Valley of Flowers and Hemkund Sahib Trek and one of the unexplored treks is the Malari-Milam Trek.
Wheels whizz from Bagdogra to reach the trekking trails in Sikkim and North Bengal. From the summit, highest point of North Bengal, on Sandakphu-Phalut Trek one can capture the towering and highest peaks of the Himalayan range from Mt. Everest and Mt. Lhotse in Nepal to Mt. Kanchenjunga in the border of India and Nepal. Further the Dzongri Goechala Trek in Sikkim, which is one of the best treks in Indian Himalaya, offers a spectacular view of the peaks like Kabru, Ratong, Kangchendzonga, Koktang, Pandim, Narsing and Jobonu. Moreover trekking in Sikkim allows one to explore the vast ecosphere dotted with several species of plants, wildlife and birds as well as to acquaint the ethnic culture.
Top 15 Hill Stations in South India for Honeymoon Vacation
For the newly married couples, the awe-inspiring honeymoon destinations means a lot as it helps in creating long-lasting unforgettable memories. There are many best honeymoon places in South India that encompasses a plethora of pristine mountains, tranquil backwaters, cascading waterfall, green valleys and immense natural beauty. Enjoy every romantic moment with your beloved partner through the South India honeymoon tours that is wrapped up with unconditional love and never ending romance"
Getting married is one of the most beautiful things that ever happens in an individual's life. All though, we all plan a lot during our wedding, regarding the location, food, decoration, venue and the guest list but when it comes to honeymoon, choosing the best destination or place is certainly not paid much attention. Honeymoon is an important phase when you actually get to know your partner much better. India being a diversified country has assorted places from North to South and East to West. Since the awe-inspiring hilly regions provide a tranquil environment to spend a romantic time, here are some of the best hill stations in the Southern part of the country where you could cherish the best phase of your life with your adorable partner.
For Most Romantic Honeymoon Destinations of different States in India
You can consult http://www.transindiatravels.com/honeymoon/top-50-most-romantic-honeymoon-destinations-in-india/
Top 100 Wildlife Sanctuaries and National Parks in different States of India
You can consult–http://www.transindiatravels.com/wildlife-sanctuaries/top-100-wildlife-sanctuaries-national-parks-india/
Give your kind Comments or Contact us – for Free Advice and Guidance for your Activities  During your Visit India